It seems hard to believe that a former violinist with the Royal Philharmonic Orchestra was a resident at one of Adullam's hostels in 2022, but it's true.
People become homeless or at risk of being homeless for a myriad of reasons, and whatever those reasons are, Adullam works with them. We work to help people achieve their full potential, to achieve the goals they have set themselves.
The violinist FP is an example. She toured the world, she stayed in plush hotels, but developed a problem with alcohol and ended up on the streets.
When FP arrived at our Fleet House project in Bolton, one of the first things we addressed, as with any individual, was support with any addiction and health issues.
Achieve is an organisation with which our Bolton Bridges projects – Fleet House included – work very closely. After our referral to them their work began, and FP started to attend weekly drop-in sessions. She also engaged with our homeless nursing team.
Once FP had settled into Fleet House, she had weekly meetings with her key worker Zaneta. It was discovered that even though FP had a history of playing violin at a professional level, she no longer had a violin.
This was mentioned this to Bolton Bridges Property Services and Operational Manager Dawn, and within a couple of days FP had been offered a donation of a brand-new violin. Over the next few days, a number of other violins were also donated.
At Adullam we use coproduction as a strategy to help develop resident's lives around skills they already have. Coproduction events link staff and residents' skills together.
As FP has a love of music, she quickly engaged with our Learning and Engagement Coordinator Caroline, who loves to sing. After the violin had been given to FP, she and Caroline began rehearsing a song they both enjoy – "Amazing Grace".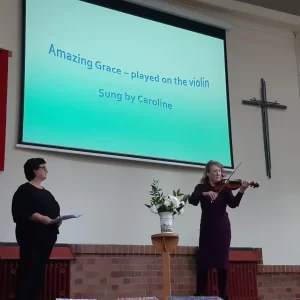 They would later perform this together at a World Homeless Day service at Victoria Hall organised by Dawn.
Other members of the Bolton Bridges team combined their skills in IT and public speaking to plan and run the service, combined with other residents' skills in art and telling their own personal stories. The service was described by the congregation as "inspiring".
Regular meetings continued with FP's support worker who supported her in speaking to a financial advisor. FP was able to pay off her debts which enabled her to move back into her own home.
FP received the keys to her property and employed a carpenter and decorator to make sure it was habitable.
Transition
At this point, many of our residents find leaving our service, with all its support, daunting. Our social work student Rosie spoke to our Tenancy Support Officer Debs when she realised that after completing her Ready Steady Tenancy sessions that FP was struggling with the transition.
Debs then sat down with FP and Caroline who afterwards got permission from Nick (Manager of project) to make a home visit with Caroline.
Caroline and FP visited FP's home and talked about what would make the transition easier. There is a piano in FP's house, and she and Caroline enjoyed singing and playing together. This helped FP feel more comfortable in her own space again.
A few days later FP spent a night in her own home and then was supported to move into it. FP was very grateful to all of the Bolton Bridges staff who worked with her. They have all said they have thoroughly enjoyed seeing her get back on her feet.
FP's story shows that all kinds of people can become homeless, and more importantly, that through coproduction and with the help of an expert, caring team, they can get their lives back on track again.