Tips for feeling relaxed shared
A week-long campaign designed to generate ideas and discussions about ways to help prevent anxiety saw staff, tenants, residents and service users getting involved in everything from country walks to croqueting.
The work took place throughout Mental Health Awareness Week (MHAW) 2033, which had anxiety as its theme.
Staff were invited to submit their ideas of ways to prevent anxiety to a competition which generated a fantastic response. Entries ranged from photos of adorable dogs, walks, a description of using the Calm app which is paid for by Adullam as a staff benefit, and of positive thinking.
Well done to everyone who took part, and particularly to the two winners chosen by SLT. One was a collage of photographs taken by members of the Sheffield Foundations team, and the other winner  a detailed description of benefiting from walking in nature after work and connecting with family and friends in free time.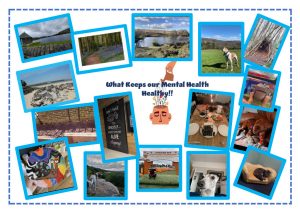 There was plenty of MHAW activity involving tenants, residents and service users too. In Buxton young residents were asked to take photos of what makes them happy around the High Peak town. The pictures will be printed onto canvas and put up around a new communal room currently being created.
At Muamba House in Bolton, discussions took place on what can be done to help people feel better. Top tips were sitting in the sunshine, getting out in nature, gardening, meditating, and just having a brew and a chat with friends.
At Fleet House, also in Bolton, staff and residents came together to plant flowers in the garden, backed by lovely sunshine. They topped the day off with tea, cake and chatting together.
Staff and residents in Bury created a positivity board where everyone could scribble their thoughts on what makes them happy. As well as providing ideas, this also created an attractive piece of artwork.
A creative route was also taken at our Sheffield Foundations project, where Wellbeing Wednesday saw service users designing posters.
This is just a snapshot of what went on, but there will be an opportunity to see and hear more through Adullam's social media platforms.
Over the coming weeks details and pictures of activities will be shared, both to maintain awareness of the need to care for everyone to care for their wellbeing and to provide ideas others might find helpful.